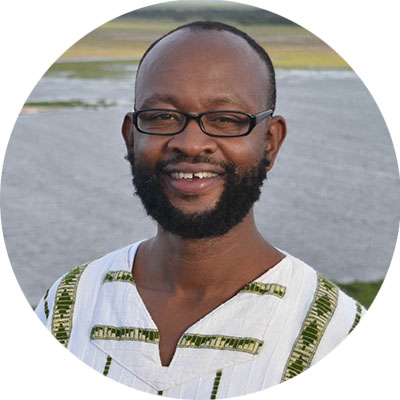 Prof. Ciira Maina
Associate Professor, Dedan Kimathi University of Technology
ciira.maina at dkut.ac.ke
KEYNOTE SPEAKER
Prof Ciira Maina is an Associate Professor In the Department of Electrical and Electronic Engineering, and the Director, Centre for Data Science and Artificial Intelligence (DSAIL) at the Dedan Kimathi University of Technology.
He holds a PhD in Electrical and Computer Engineering from Drexel University, USA and a B.Sc Electrical and Electronic Engineering from the University of Nairobi.
He is an active researcher with interests in Wireless communication applications for development, Statistical signal processing for speech applications, Data organization and analysis for traditional systems of knowledge, the Internet of Things (IoT) and Computational Biology. He is currently the Principal investigator of the Kenya bioacoustics project which leverages low cost electronics and machine learning for environmental monitoring. The project uses deep learning models for bird species recognition from audio recordings.
He also serves as the chair of the board of Data Science Africa which aims to improve machine learning expertise in Africa. We have organized capacity building events in Kenya, Uganda, Tanzania, Ethiopia and Nigeria since 2015. He is a member of the International Institute of Electric and Electrical Engineers (IEEE) and the Engineering Board of Kenya (EBK.
GUEST SPEAKER
Dina Machuve is the Co-Founder and CTO of DevData Analytics. She was until recently a Senior Lecturer and Researcher at the Nelson Mandela African Institution of Science and Technology (NM-AIST) in Arusha, Tanzania. Her research focuses on developing data-driven solutions in Agriculture. For her PhD, she investigated the information logistics of small and medium size food processors. Her most recent project focused at developing a poultry diseases diagnostics tool using computer vision and bioinformatics methods for small and medium scale poultry farmers in Tanzania.

She was an Early Career Fellow of the Organization for Women in Science for the Developing World (OWSD). She serves in the board of Data Science Africa (DSA), a non-profit organization that builds capacity of data science and machine learning in Africa. She is also a member of a research group on Mechanism Design for Social Good (MD4SG). She completed her PhD in Information and Communication Science and Engineering from NM-AIST in 2016. She also has an MS in Electrical Engineering and BSc in Electrical Engineering.
GUEST SPEAKER
Dr. John Otieno Oredo, PhD is an educator with over twenty years teaching experience in secondary and university levels. John is a lecturer in the Department of Information Science at the University of Nairobi and previously served as a Research Associate at Kenya Education Network (KENET). He holds a PhD degree in Business Administration – Strategic Information Systems (University of Nairobi); MSc. in Information Technology (Strathmore University); and a Bachelor of Education (Moi University). John is a researcher who has published on educational technology and information systems. His current research revolves around Public Automation, Machine Learning, Data Science, Adoption of Emerging Digital Technologies, Data Analytics, ICTs in Education and Technology Related Stress. He has facilitated workshops on educational technology and academic integrity for University staff and Library Professionals. John is trained in scientific communication and publishing (UON); Research writing (INASP), Item Writing (KNEC), E-Learning course design (ETSU) and supporting faculty in developing online course proficiencies (EDUCAUSE), Advanced Research Design (PASGR) and Critical Discourse Analysis (Stellenbosch University). He is an active member of several professional bodies: ISACA; Full member of Kenya Institute of Management (KIM) and a columnist for its MANAGEMENT magazine; Computer Society of Kenya (CSK), Association for Advancement of Computing in Education (AACE); Project Management Institute (PMI) and Association for Information Systems (AIS) where he serves as the Eastern Africa Chapter President. He is a certified Project Management Professional (PMP), Big Data Engineer and Artificial Intelligence Analyst. John also has an Executive Education in Supply Chain Management from Kuhne Logistics University (Germany). He spends his free time tinkering with open-source productivity and research tools.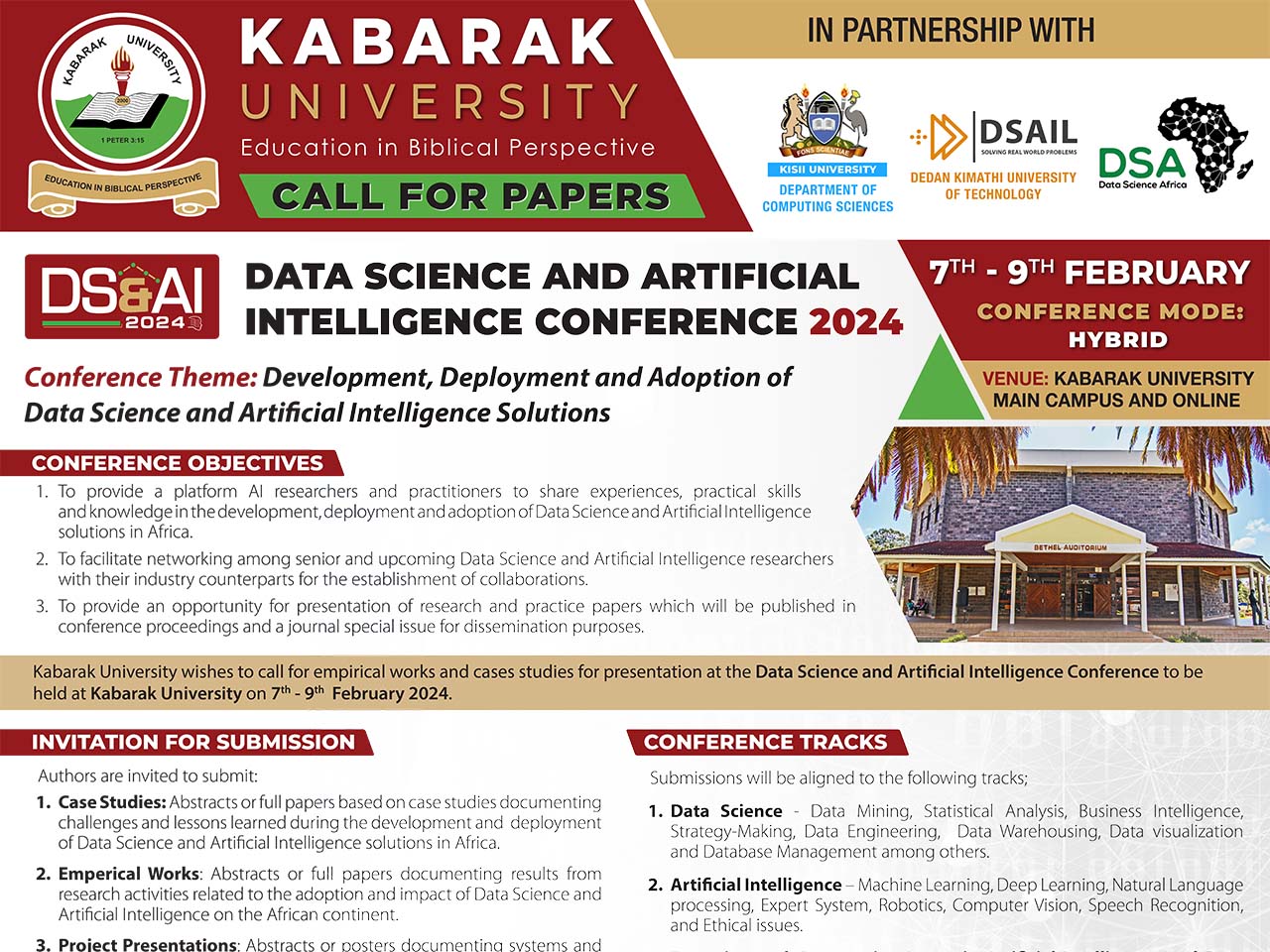 Kabarak University wishes to call for empirical works and case studies for presentation at the Data Science and Artificial Intelligence Conference to be held at Kabarak University on 7th - 9th February 2024