On 3rd March 2022, Kabarak University Public Policy and Analysis Club under the Research and Innovation center joined representatives from the National Museum of Kenya, Wildlife Club, Kenya and other representatives to mark International world wildlife day.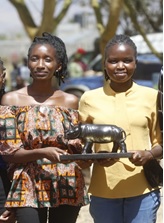 Essay competition winnersOther organizations featured at Lake Nakuru national park include Mediheal hospital, Nakuru, Baboon project Kenya, and the Youth Bila Noma initiative.The guest speaker's speech, Dr. Kiaogora Murithi revolved around the theme, Recovering Key Species for Ecosystem Development. He emphasized on the essence of protecting the ecosystem and it should be a 'heartware' that is the environment conservation decisions should be our passion.Ten Kabarak university students participated in an essay competition on how to reverse the threats facing the wildlife species while supporting the restoration of their habitats and ecosystem, thus its sustainable use by humanity.
The competition involved top essay writers in the Rift Valley tertiary institutions. Among the competitors, Meli Stacy Jepchumba (right) from the school of business and economics emerged the second-best, and Lilian Ngina (left) became the 3rd at the higher education institution docket. Both are third-year students. The event came to a close at 2:00 pm after an award session and a tree planting activity led by Dr Kiogora Muriithi, Wildlife service, Nakuru County.