Kabarak University and Kabarak TVETs were honored to participate in the 7th Annual Career Fair held at Vanessa Grant Girls School in Rongai Town, Nakuru. The event aimed to enlighten students about the vast array of career options available to them in the realm of post-secondary education. With students from various schools in attendance, the team from Kabarak University and Kabarak TVETs eagerly engaged with them, sharing invaluable information and guiding them toward a bright future.
The career fair was a resounding success, attracting students eager to discover their potential professional paths. It served as a platform for these young minds to gain exposure to a diverse range of industries and professions that awaited them after completing their secondary education. The team from Kabarak University and Kabarak TVETs played a pivotal role in nurturing their aspirations by providing comprehensive insights into the various career options available.
The team from Kabarak University and Kabarak TVETs utilized this opportune event to showcase the extensive courses and programs they offer. Their aim was to highlight the connection between these educational opportunities and the student's career goals. By offering a holistic view of the educational pathways, they motivated students to pursue higher education and vocational training. This broadened their horizons and inspired them to explore unconventional fields that aligned with their interests and strengths.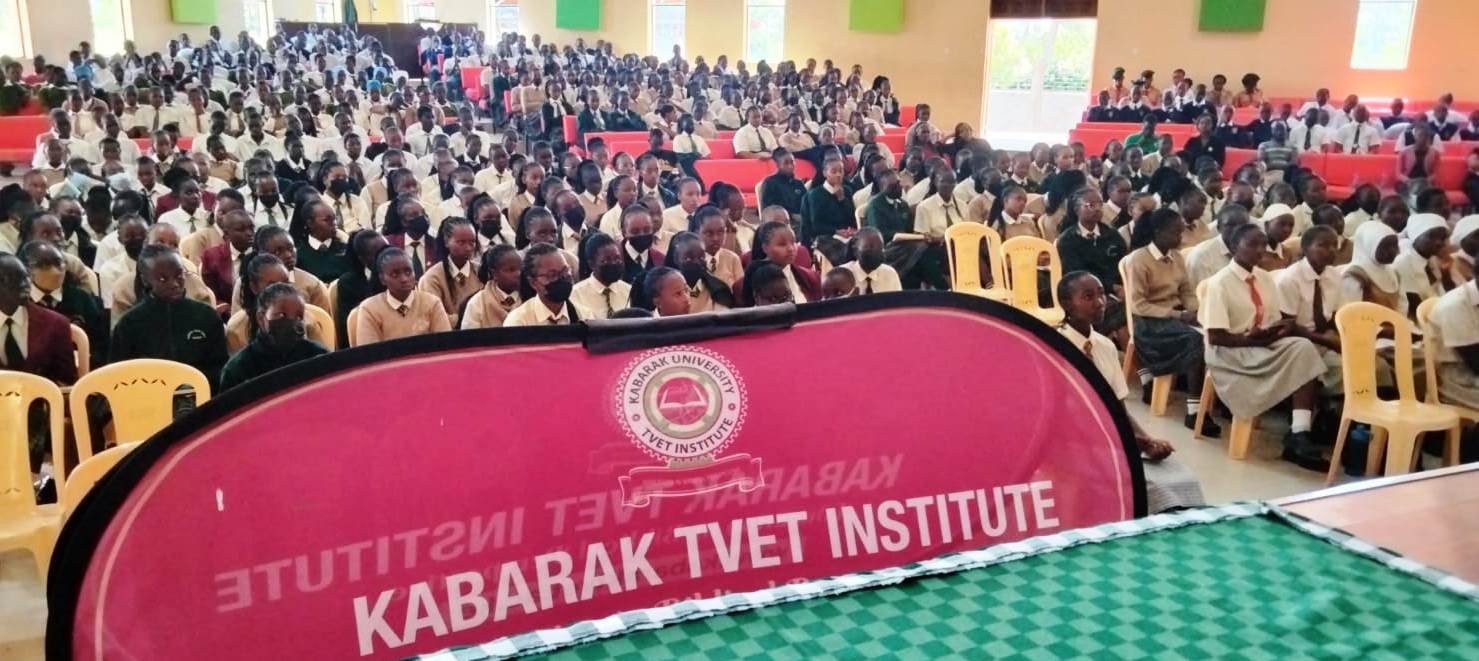 Engagement with the students was a crucial aspect of the team's involvement in the career fair. Through interactive sessions and one-on-one conversations, they effectively addressed students' queries, provided personalized guidance, and shared valuable insights based on their expertise. By fostering a supportive and informative environment, they empowered the students to make informed decisions regarding their future educational endeavors.
The presence of Kabarak University and Kabarak TVETs at the career fair left an indelible mark on the students. The team's dedication and commitment to helping students achieve their career aspirations resonated with the young minds, instilling them with a renewed sense of purpose. The fair not only opened doors to a multitude of possibilities but also laid the foundation for nurturing the next generation of leaders and professionals.
The 7th Annual Career Fair at Vanessa Grant Girls School in Rongai Town, Nakuru proved to be a remarkable event, thanks to the participation of the team from Kabarak University and Kabarak TVETs. Their presence and efforts in disseminating information about diverse career options and educational opportunities provided students with a glimpse of the vast world that awaits them. By equipping them with knowledge and guidance, the team empowered these students to embark on a journey of personal and professional growth, fostering a brighter future for themselves and their communities.