Kabarak University in collaboration with Laikipia University organized a debate that took place on 23rd September 2022. The event saw two clubs, that is, Kabarak University Public Policy Research and Analysis club (KUPPRAC) and the UNESCO club of Laikipia, known as LUUNECO come together. The motion of the debate was "Can the Bottom-Up Economic Model be Achieved in Kenya?" The debate was part of the sensitization campaign to enable the youth to take part in matters relating to the economy and improve its success through sharing of innovative ideas.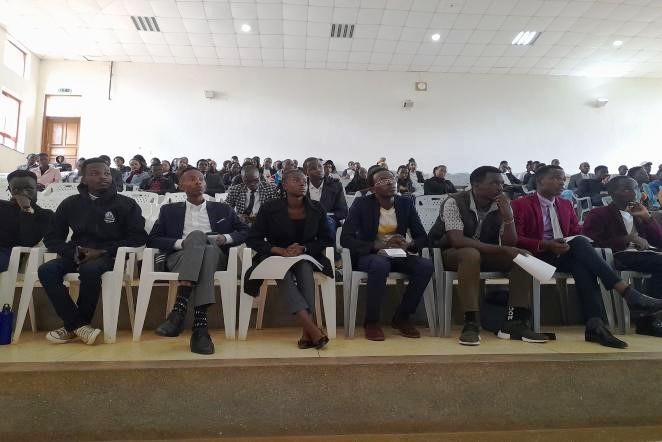 KUPPRAC Team during the DebateThe event took place at Mandela Hall (Laikipia University) and was graced by the Executive Officials and Club Members from both clubs. The Director of clubs and Associations at Kabarak University, Mr. Ogoti Moses who was one of the guests gave his remarks on the importance of participating in the economic policy discussions, and the role of research in creating an understanding of the policies. He engaged the participants in a spoken word concerning the future of youth in a bottom-up economy. The guest of honor was Dr. Naftal Michira Nyang'ara, president of KEFUCA-UNESCO, and the patron of Laikipia university UNESCO club who in his presentation encouraged the youth to be innovative and creative for sustainable development.
The debate started at 12.00 noon with five debaters from each side. Laikipia University team was the proposer while the KUPPRAC team was the opposer. The panel had two charges and two moderators who ensured impartiality in the debate. The award for the best debater went to Faith Bosire of Kabarak University. Overall, Kabarak University was position one with a 72% pass while Laikipia University was the second runners-up. Certificates were to be issued later to the winning club, the best debater, and all the debaters. Latter there was a team building at Thomson Falls in Nyahururu.