In a bid to foster collaboration and strengthen the education sector, Mr. John Kipkemboi, the Academic Programme Manager of M-Pesa Foundation Academy, paid a courtesy call to the esteemed Kabarak University. The meeting, which took place in the office of Prof. Henry Kiplangat, the Vice Chancellor of Kabarak University, was marked by a detailed conversation on education and the exploration of potential partnerships.
The meeting held great significance, as both institutions have a shared vision of empowering young minds through quality education and holistic development. Kabarak University, renowned for its commitment to academic excellence and moral values, has been a driving force in shaping the future of Kenya's education landscape. Likewise, M-Pesa Foundation Academy, founded by Safaricom's philanthropic arm, has been a beacon of hope for underprivileged students, offering them an exceptional education experience.
During their meeting, Prof. Henry Kiplangat warmly welcomed Mr. John Kipkemboi to Kabarak University. The conversation revolved around key aspects of the education sector in Kenya, focusing on the challenges faced and the strategies to overcome them. Both education leaders recognized the importance of collaboration between academic institutions to create a positive impact on the lives of students.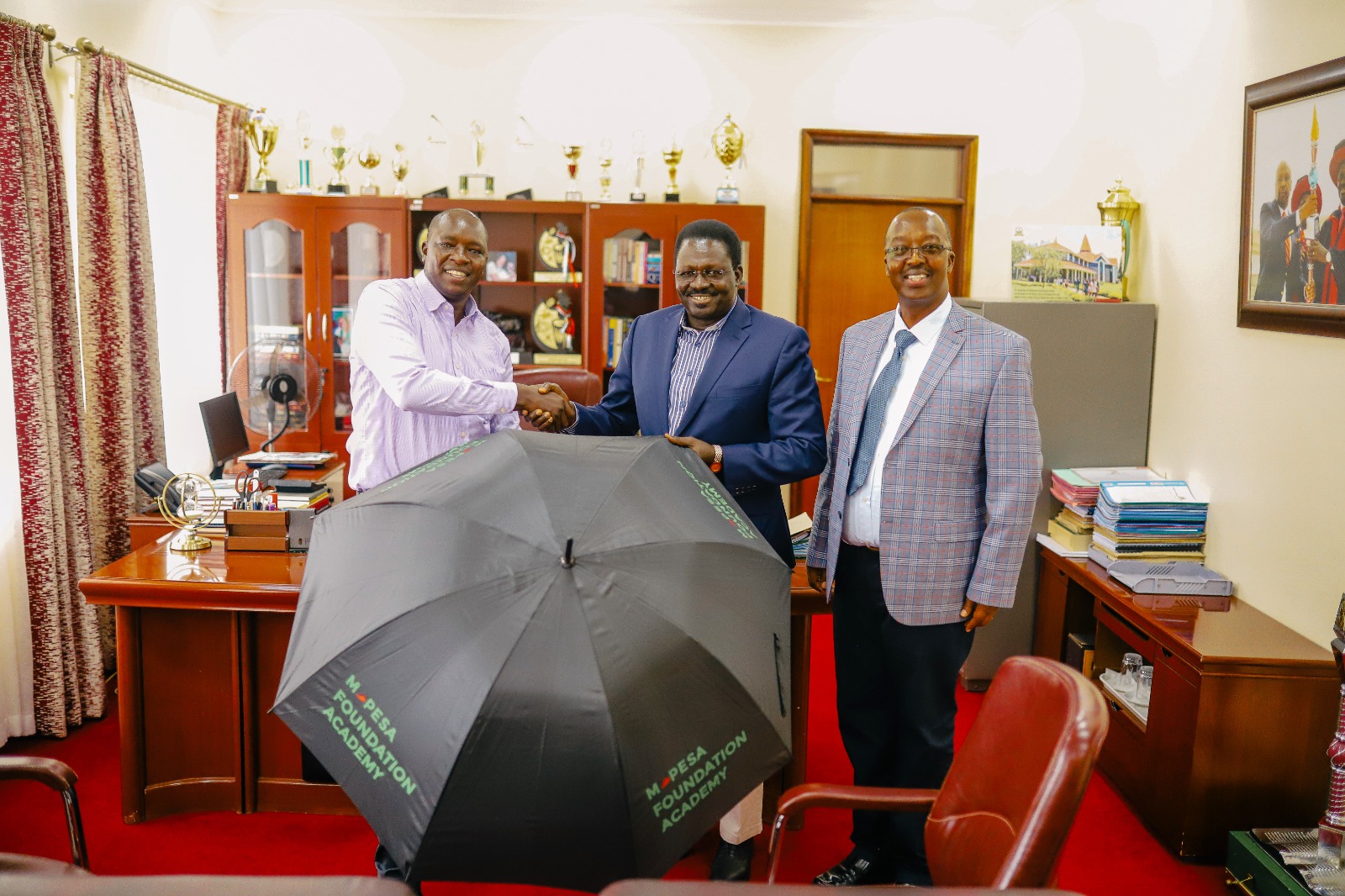 The Deputy Vice-Chancellor (Human Resource and Finance), Prof. Ronald Chepkilot, also joined the meeting, further enriching the discussions. His presence demonstrated the university's dedication to exploring meaningful partnerships and enhancing their financial resources for the benefit of students.
A pivotal point of the conversation was the potential partnership between M-Pesa Foundation Academy and Kabarak University. The two institutions discussed the possibility of collaborating on various educational projects, exchange programs, and research initiatives. This partnership, if realized, would undoubtedly open new doors of opportunity for students and faculty members of both institutions.
In addition to exploring future prospects, Mr. John Kipkemboi had visited to check on a group of nine students sponsored by the M-Pesa Foundation Academy. These bright young minds are pursuing their undergraduate programs at Kabarak University. Their academic progress and personal development are closely monitored to ensure that they thrive in their chosen fields.
Both Prof. Henry Kiplangat and Mr. John Kipkemboi expressed their excitement at the potential benefits of a collaborative partnership. The synergy between Kabarak University's academic expertise and M-Pesa Foundation Academy's dedication to nurturing young talent could pave the way for innovative educational programs and initiatives.
The meeting concluded with a shared commitment to continue exploring the partnership and nurturing the existing bond between the two institutions. By pooling their resources, experiences, and knowledge, Kabarak University and M-Pesa Foundation Academy hope to create a lasting impact on the lives of countless students and contribute significantly to the growth and progress of the education sector in Kenya.