In a momentous turn of events, Dr. Anthony Somba, the Registrar Academics and Research at Kabarak University, has been appointed as the incoming Vice-Chair of The Association of Academic Registrars of Universities in Kenya (AARUK). This remarkable achievement not only recognizes Dr. Somba's exceptional contributions to academia but also brings forth a double blessing for the prestigious Kabarak University, known as the home of great minds and great leaders.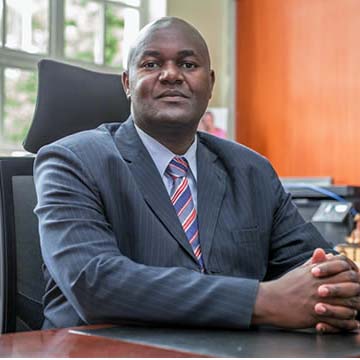 Under the patronage of the Kabarak University Vice-Chancellor, Prof. Henry Kiplangat, this double blessing for the institution reinforces the university's commitment to producing not only great minds but also great leaders. Prof. Kiplangat's unwavering support and guidance have undoubtedly played a pivotal role in nurturing the talents of individuals like Dr. Somba, enabling them to make significant contributions to academia and beyond.
Dr. Anthony Somba has long been a beacon of inspiration at Kabarak University, showcasing the unwavering dedication, intellect, and a passion for the advancement of higher education. As the Registrar of Academics and Research, he has played a pivotal role in shaping the academic landscape of the university and fostering an environment conducive to innovation and intellectual growth. His visionary leadership has propelled Kabarak University to greater heights, making it an institution renowned for its commitment to excellence.
The appointment of Dr. Somba as the Vice-Chair of AARUK not only signifies his personal accomplishments but also underscores the university's reputation as a breeding ground for exceptional talent. AARUK, an association dedicated to promoting collaboration, knowledge sharing, and best practices among academic registrars in Kenya, has chosen Dr. Somba to be at the forefront of this noble endeavor. His appointment is a testament to the trust and confidence that the academic community places in his abilities.
Dr. Anthony Somba's new role as Vice-Chair of AARUK carries great responsibility and represents an incredible opportunity to shape the future of academic administration in Kenya. With his vast knowledge, innovative thinking, and deep-rooted commitment to advancing education, Dr. Somba is poised to bring about positive change in the field. His tenure promises to be marked by collaboration, strategic initiatives, and an unwavering focus on fostering academic excellence across the country.
As the Kabarak University community celebrates this remarkable achievement, it serves as a reminder of the institution's unwavering commitment to producing leaders who will transform society. Dr. Somba's appointment reflects the university's dedication to providing its students and staff with an environment that nurtures their talents, encourages growth, and empowers them to make a meaningful impact in their respective fields.