Kabarak University Press, the publishing arm of Kabarak University and a rising star in the world of academic publishing, made a notable presence at the 2023 Agricultural Society of Kenya (ASK) Show. The event, held at the Nakuru Show ground , attracted a diverse range of exhibitors and attendees from the agricultural and academic sectors. Kabarak University Press grabbed attention with their impressive display of scholarly publications.
The Kabarak University Press, established in September 2021 under the visionary leadership of Henry Kiplangat, Vice-Chancellor, Kabarak University, has quickly established itself as a valuable platform for scholarly communication. The press embodies the university's commitment to nurturing academic talent and fostering an environment conducive to intellectual exploration.
Manning the Kabarak University Press table were David Arita and Loraine Koskei, two enthusiastic representatives of the press who welcomed visitors and showcased the diverse range of publications available. The table featured an array of academic journals, books, and other publications highlighting the institution's commitment to intellectual exploration and dissemination of knowledge.
Visitors to the Kabarak University Press table were captivated by the extensive collection of scholarly works. From the Kabarak Journal of Law and Ethics, to the book 'Power Politics and Law' by professor Githu Muigai and the Kabarak Law Review. Attendees had the opportunity to engage in insightful discussions with David Arita, Intern, Kabarak University Press and Lorraine Koskei, Graduate intern, Kabarak University Press, thus, gaining valuable insights into the pressing issues addressed in the publications.
"The ASK Show provides an excellent platform for us to connect with a wider audience and showcase the intellectual endeavors of Kabarak University," expressed David Arita. "We are thrilled to be here and share our publications, which reflect the high standards and deep scholarly engagement of our institution."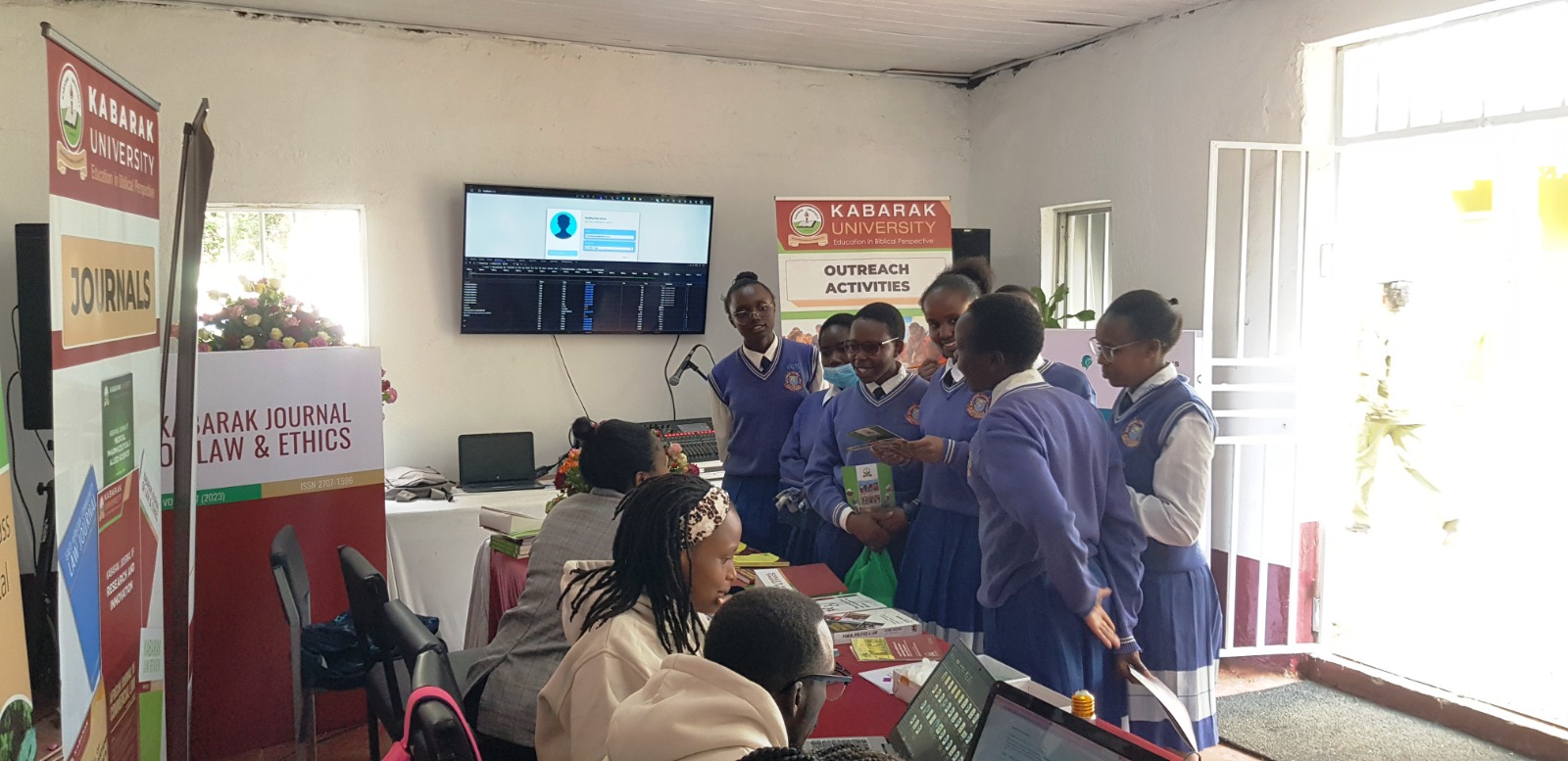 Loraine Koskei on the other hand emphasised the significance of their participation in such events. "Being part of the ASK Show allows us to bridge the gap between academia and the agricultural sector," she noted. "We believe in the importance of research and knowledge-sharing in addressing agricultural challenges and fostering sustainable development."
As the ASK Show continues, the Kabarak University Press team looks forward to engaging with more visitors and facilitating meaningful conversations around the pressing issues facing society. With their dedication to scholarly excellence, the press is poised to make a significant impact on the academic landscape and contribute to the advancement of knowledge.
Those interested in exploring the publications showcased by Kabarak University Press, are encouraged to visit the university's website or contact the press directly. The team welcomes inquiries, submissions, and collaborations from researchers, scholars, and authors eager to contribute to the growth of academic discourse and intellectual development.
The Kabarak University Press at the 2023 ASK Show stands as a testament to the institution's commitment to intellectual pursuits and scholarly endeavors. Through their publications, they continue to shape conversations, inspire innovation, and pave the way for a brighter future.